Marching in Solidarity with Immigrants
October 23, 2013
Br. John Eustice, CSV, set out on a two-day, 25-mile trek from Chicago's western suburbs — and the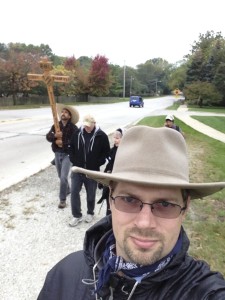 district of Illinois Rep. Peter Roskam — to Daley Federal Plaza and ultimately Old St. Mary's Church, the first diocesan parish started by Native Americans and French immigrants located in the south Loop.
Br. John was one of 11 activists making the longer walk — representing the 11 million undocumented workers in the United Sates — who joined with hundreds of people making the pilgrimage through the streets of Chicago for immigrant reform.
"My eyes have been opened again as I walked through Pilsen, with many immigrants," Br. John said.  "No church could contain the emotional singing of hymns — in both English and Spanish."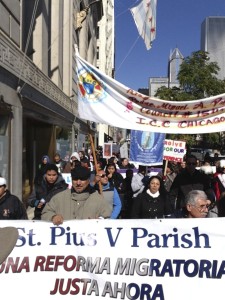 The pilgrimage and rally was the culmination of a 40-day campaign of prayer, fasting and action promoted by the Archdiocese of Chicago and its Office of Immigrant Affairs & Immigrant Education.
"We have finally reached the crucial  moment," says William Becerra, Archdiocesan pastoral organizer, "for which we've worked and prayed so fervently, and we need participation in this penultimate phase."