Make Fashion — Traffik Free
June 16, 2014
Over 200,000 women and girls are trafficked and exploited in cotton spinning, weaving and dying mills, in Tamil Nadu, India.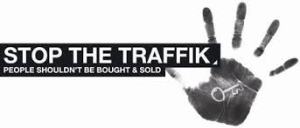 The women and girls are deceived and recruited under the Sumangali Scheme. The name 'Sumangali' means "happily married woman" in Tamil. This definition could not be further from the reality.
The women and girls live in cramped, one-room living quarters with up to 25 girls, work in hazardous conditions, often while inhaling the fabric fibres and fumes from the fabric dye, and suffer emotional, physical and sexual abuse.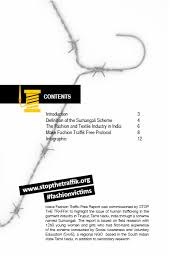 Yet, momentum is building to bring this to a stop. A British-based nonprofit organization, Stop the Traffik, has partnered with the United Nations to prevent the sale of people, protect the victims and prosecute the traffickers.
Yet, pressure from consumers, speaks volumes to merchants. Consequently, ways to help range from as simple as asking shop owners about their cotton supply chain, to writing post cards to large department stores telling them that you buy your clothes knowing they are free from human trafficking. Or, you can send a message to a favorite store through social media, where it will be seen.
Read about all the ways you can help to stop human trafficking in the fashion industry, here.