Lunch & Learn Series Examines Immigration Reform
July 8, 2013
8th Day Center for Social Justice presents its latest Lunch & Learn session, featuring Sr. Bernadine Karge, OP and 8th Day staffer, Stephanie Dernek, who will discuss Immigration Reform.
The discussion will focus on the latest developments in the immigration legislation and the militarization of the border
.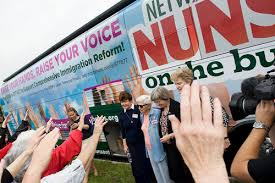 PLEASE JOIN US from noon-1:30 p.m.,  Tuesday, July 23
8th Day Center for Justice 205 W. Monroe, 5th Floor Chicago
You will need to show ID and sign in at the front desk.
Sr. Bernadine has practiced immigration law in Chicago for the past 30 years.  She retired last month but is continuing to work on immigration issues.  Just last month, she joined the "Nuns on the Bus" tour for immigration reform.  She will be discussing the latest news on the immigration bill.
Stephanie Dernek has been at 8th Day for 11 years, working on many issues including immigration.  Stephanie will speak about the militarization of the border and the costs of it both human and monetarily.  In addition, Stephanie will share her experiences of walking 700 miles in the Migrant Trail Walk over the last 8 years.