Join the Movement: Participate in Human Rights Day
November 4, 2013
The Viatorian Community works actively to bring an end to U.S.-sponsored torture, as a member of the National Religious Campaign Against Torture (NRCAT).
On Dec. 10, they will join other religious organizations in commemorating the 65th anniversary of the adoption and proclamation of the United Nations' Universal Declaration of Human Rights.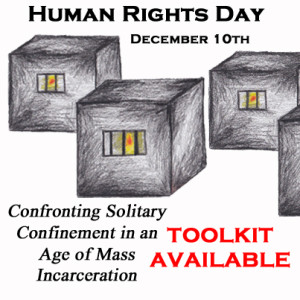 On this day, as people of faith who acknowledge the importance of protecting the God-given dignity of every human being, we reaffirm the Universal Declaration's statement that "no one shall be subjected to torture or to cruel, inhuman or degrading treatment or punishment."
NRCAT has prepared a Human Rights Day toolkit for use in commemorating this day. The 2013 toolkit includes a bulletin insert with educational material and an interfaith prayer, a poster for the promotion of Human Rights Day, and talking points for integrating the reality of solitary confinement into sermons and prayers during worship.
Links to other worship resources, as well as to educational and advocacy activities that congregations can use to commemorate Human Rights Day are available at here.
For access to NRCAT videos, click here.