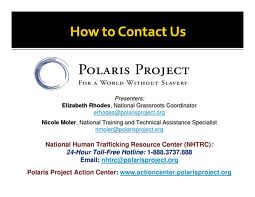 Security in New Orleans will be tight when the Super Bowl rolls into town next week, and part of the focus will be to target human traffickers, who traditionally set up shop in Super Bowl host cities, trying to cash in on the celebration.
In fact, authorities say the Super Bowl is one of the largest human trafficking events in the world.
The Viatorian Community endorses and promotes the mission of the Polaris Project, a Washington-based organization that provides comprehensive services to victims, while working to create systemic changes to combat human trafficking. Its programs take aim at sex trafficking as well as labor trafficking in the United States.
One of their services is to provide the National Human Trafficking Resource Center (NHTRC), which is a national, toll-free hotline, available to answer calls from anywhere in the country, 24 hours a day, 7 days a week, every day of the year. Trafficking hotline: 800-3737-888.