Honoring Indigenous Peoples
October 16, 2017
The Smithsonian's Natural History Museum has created a museum exhibition and series of public programs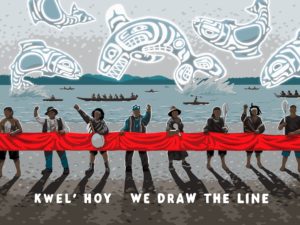 uplifting Indigenous leadership in struggles to protect water, land, public health, and our collective future.
Called, Kwel' Hoy: We Draw the Line!, this cross-country tour started this week, making stops across this country and in Canada, and culminates with an exhibition at the Carnegie Museum of Natural History in Pittsburgh.
The exhibition will open with a totem pole blessing ceremony that will be led by tribal leaders from across North America and attended by hundreds of natural history museum delegates from around the world.
The exhibition will be on display for six months and stands as a powerful bridge between the museum of natural history and the communities that are working the hardest, in the words of the American Alliance of Museums' code of ethics, "to foster an informed appreciation of the rich and diverse world we have inherited . . . and to preserve that inheritance for posterity."