Help Advance National Migration Week
January 6, 2014
Be a part of the change in attitude. Join the Viatorian Community in observing National Migration Week.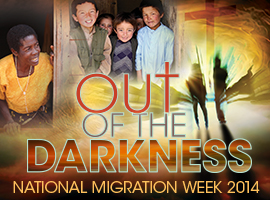 Its theme, "Out of the Darkness," echoes the figurative darkness undocumented immigrants, children, refugees and victims of human trafficking face when their ability to live out their lives is severely restricted, due to violence and exploitation.
This week, from Jan. 5-11, Viatorians will join with dioceses around the country, who will be participatiing through prayer and action and to reflect on the Church's obligation to welcome the stranger.
More advocacy activities, as suggested by the national organization, Justice for Immigrants, include:
· Tue. Jan. 7 – Send a JFI e-postcard for the national e-advocacy day.
· Wed. Jan. 8 – Participate in the JFI National Call-In Day to Congress. Use the toll free number, 1-855-589-5698, to call your Representative and ask them to "Support a path to citizenship and oppose the SAFE Act."