One month after addressing members of the Chicago-based Sisters and Brothers of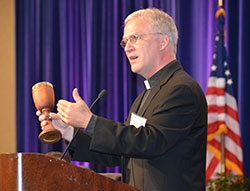 Immigrants, Fr. Dan Groody, CSC, took his call to address urgent immigration issues to the U.S. Catholic Conference of Bishops, at their national meeting on June 14 in Indianapolis.
Fr. Groody noted the need to "move people beyond binary language: legal or illegal, citizen or alien, native or foreigner, and to try to go to the deeper river of these issues."
He spoke of the tensions in the topic of immigration, the tension between sovereign rights and human rights, between civil law and natural law, and between national security and human security.
A full report of his presentation can be found here.