Fighting Hunger a Viatorian Priority
June 1, 2015
Throughout their 150 year history in this country, Viatorians have made fighting hunger — especially among children — a priority, and consequently they strongly support federal nutrition programs that fight hunger and improve the lives and well-being of low-income Americans.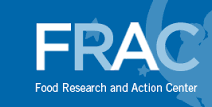 In a new report released by the Food Research and Action Center (FRAC), it showed that more low-income children are eating summer meals.
Specifically, the report documented that more than 3.2 million children participated in the Summer Nutrition Programs in July 2014. This represents a seven percent increase over the previous year, and demonstrates what can be done when the federal government, states, and communities make summer food a priority.
"Higher participation rates in summer food mean more low-income children get the fuel they need to thrive over the summer months," said FRAC President Jim Weill. "Congress can further this progress in this year's Child Nutrition Reauthorization law by making strategic and thoughtful investments in the Summer Nutrition Programs that bolster their capacity to serve even more children."
To read more about seniors and hunger, summer meals, as well as employment, benefits and low-wage workers, read the latest digest by the Food Research and Action Center.