Farm Bill Negotiations Begin
October 31, 2013
Over the next month, members of the House and Senate will meet to hammer out details of a a combined farm bill based on two bills passed earlier this year.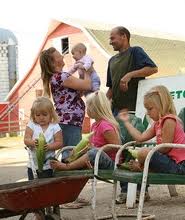 Members of the National Catholic Rural Life Conference are working to ensure that the eventual bill is fair and just, and supports family farms and rural life.


To do that, NCRLC members are contacting conference committee members to make sure they hear about the need for reform and support for conservation, nutrition and rural development programs.
To read more about Catholic Rural Relief positions on the new farm bill, click here.
The latest bulletin from the National Catholic Rural Life Conference also contains information about Cardinal Peter Turkson and his remarks at the World Food Prize in late October in Des Moines, as well as highlights from Food Day on Oct. 24, and an article from U.S. Catholic about how the next generation might affect climate change.