Demonstrating for Racial and Economic Justice
November 13, 2015
Walking in solidarity with thousands of underpaid working people who were fighting for a living wage, members of the Viatorian Community participated in the National Day of Justice, held Nov. 10 across the country.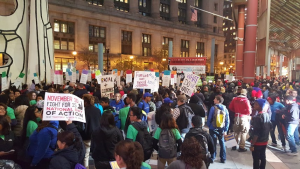 Together with nearly 7,000 people in downtown Chicago — and taking place in 200 cities across the country — they demonstrated for a $15 minimum wage for underpaid workers, as well as for racial justice and immigration reform.
Viatorians included Br. Michael Gosch, CSV, coordinator of peace, justice and integrity of creation, as well as Kelvin Ho, who represents the Viatorian Community at 8th Day Center for Justice in Chicago.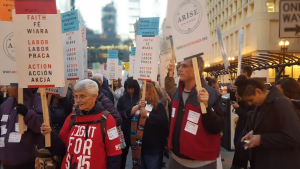 They partnered with members of Arise Chicago, whose organization forms partnerships between faith communities and workers to fight workplace injustice.
"The idea of the rally is to call on elected officials — one year before the elections — to support issues of $15/hour for fast food workers and immigration reform, along with issues of the Black Lives Matter movement," says Luke Sullivan, of Arise Chicago. "It truly is a national day of action."