Rituals from the Mass of the Lord's Supper haven't changed in nearly 2,000 years, but their solemn message of servant leadership — and nourishment from receiving the Eucharist — continue to resonate in our world today.
Viatorians in the Arlington Heights/Chicago region gathered for this solemn liturgy, seated around the altar in the Province Center Chapel. Its intimate seating and proximity to the celebrant was reminiscent of Jesus and his disciples at the Last Supper.
"On this holy night, we celebrate the Solemn Commemoration of the Last Supper, by fulfilling the Lord's commands to wash feet and to share his body and blood, in his remembrance, " said Fr. Mark Francis, CSV, who presided.
Nearly 60 people came for the liturgy, marking the start of the of the Holy Days of the Easter Triduum. They included associates, professed and staff members of the Province Center, who gathered afterwards for fellowship.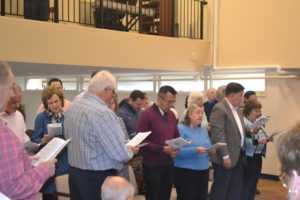 "The central meaning of the Eucharist is love," Fr. Francis said, "exemplified when we are on our knees in humble service to one another, especially the poor and marginalized."