Immigration reform continues to be a priority for religious leaders across the country — and the Viatorian
Community. That was underscored in late May, when once again, Catholic bishops returned to Capitol Hill to make a renewed push for immigration reform.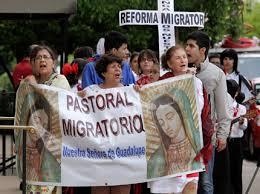 Archbishop Thomas Wenski of Miami described the failure of this country's leaders failure to address immigration reform, as a "stain on the soul of our nation."
The bishops' push was accompanied by a separate open letter to House Speaker John Boehner, a Catholic, signed by 30 Catholic leaders, including the Rev. Larry Snyder, CEO of Catholic Charities USA, and the Rev. Thomas H. Smolich, who oversees Jesuit priests in the U.S.
Read the full account of their visit and Mass in the Religion News Service article from May 29, 2014
"Legislative obstruction in the face of preventable suffering and death is not only a failure of leadership. It is immoral and shameful," the letter said. "The eyes of our God — who hungers for justice and commands us to welcome the stranger and bind the wounds of those left by the side of the road — are on us."