Brews & Bites for 8th Day
July 23, 2014
For the third year, members of the Young Adult Council of the 8th Day Center for Justice, will hold a Brews & Bites event at Revolution Brewing Company in Chicago. The event takes place from 6:30-8:30 p.m., Aug. 4, and includes two hours of craft beer and heavy apps, but organizers hope guests come away with more.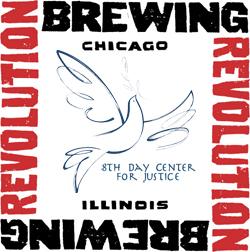 "Whether you're new to 8th Day or have been involved for years, we hope you'll come to raise a glass to justice and peace and to find out about 8th Day's latest projects," says Mary Ellen Madden, one of the 8th Day staff members.
The Viatorian Community is part of a coalition of nearly 40 religious congregations that founded the 8th Day Center for Justice in Chicago, to serve as an alternative voice to oppressive systems — and work to advance change.
Its Young Adult Council formed more than three years ago, rooted in 8th Day's mission. Council members engage young activists, professionals and social justice advocates more deeply in the work of the center through fundraising, networking and justice events.
For more information on the Brews & Bites for 8th Day, click here.