Br. Don Houde, CSV, spent more than 40 years in education — as a teacher,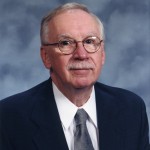 administrator — including seven years as principal of Saint Viator High School — and curriculum director for the Office of Schools within the Archdiocese of Chicago.
But he might never have entered the Viatorian Community were it not for a short, two-year stint as a bookkeeper for a Chicago restaurant and its offshoot in the suburbs.
Back in the late 1940s — just before Br. Houde entered the community — he worked in the back office of an acclaimed Chicago restaurant, RadioClub Farm, and on weekends at a second eatery opened by its owners, Uncle Andy's Cow Palace in suburban Palatine.
His unlikely career path into the restaurant industry came by way of his father, who asked him to manage a restaurant in Arizona that he impulsively bought while vacationing there.
At the time, Br. Houde hoped to become an interior designer, and took courses at the Ray Vogue School of Design and the School of the Art Institute, both in Chicago.
He lasted only a few months in Arizona before returning to Chicago in search of steadier work.
"I didn't think I'd return to restaurants, but I needed a job," Br. Houde says. "I did everything from making payroll to issuing petty cash."
It was on a fateful trip in 1950 to the campus of the University of Notre Dame — taken with the maître d of RadioClub — that Br. Houde says he discerned his call to religious life.
"The campus was filled with religious in habits," Br. Houde says. "That event, that visit to Notre Dame did it."
Within a year, Br. Houde returned to the parish where he had been educated, St. Patrick Church in Kankakee — run by Viatorians. He entered the Viatorian Community in 1951 and took his first vows in 1952.
In February, 2017, Br. Houde will celebrate 65 years of religious life. He has never looked back. His years of ministry have allowed him to pursue advanced degrees and work in secondary education as well as pursue his flare for design.
He designed many of the common areas at the Viatorian Province Center in Arlington Heights and he also served on the Arts & Environment Committee at St. Josaphat Church in Chicago, where he served as sacristan for 25 years.