At the Intersection of Obesity, Low Income and Food Insecurity
April 27, 2016
One of the main missions of the Viatorian Community is fighting hunger in this country as well as poverty.
In light of that, Viatorians rely on such partners as the Washington-based Food, Research and Action Center, which provides action items on federal nutrition programs, and federal food and nutrition policy.
Their latest focus is on obesity and low-income children and adults, looking at the intersection of obesity, low income and food insecurity.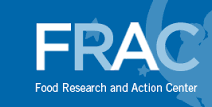 In their latest online newsletter, they provide peer-reviewed studies on a variety of topics, including the impact of breakfast at school on body mass index, association between food insecurity and obesity, and environmental influences on obesity.
They also provide important resources and reports recently published by national organizations, government agencies, and policy researchers.
For more information, visit the Food, Research and Action Center's web site, here.