An Afternoon at Sanfilippo
July 16, 2014
Join with members of the Viatorian Community at the Sanfilippo Estate in Barrington Hills, for a fundraiser to benefit the Interfaith Committee for Detained Immigrants.
Called, An Afternoon at Sanfilippo, the event takes place from 1-5 p.m. on Saturday, Aug. 2. Tickets are $65 per person. For more information, click here.
Guests will tour the estate's large collection of antique restored music machines, as well as see the Eden Palais, a spectacular 19th Century European salon carousel. The afternoon will conclude with an organ concert on the estate's largest restored theater organ, by prominent organist Jelani Eddington.
Proceeds will benefit the organization's advocacy and services for people in immigration detention, specifically, its new transitional homes for immigrants who have been released, but have cases pending and have no family in the area. They also plan to put money in reserve to help newly released immigrants with basic needs.
The post detention program has grown in response to the needs of people in the area, finding themselves without family, shelter or a support system during the transition proces. Viatorian associates, brothers and priests are involved with several of ICDI programs, including providing pastoral care to immigrants detained at McHenry County Jail and the Immigration Detention Center in Broadview, and helping to support the houses of accompaniment.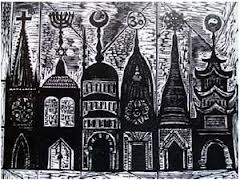 "We have no regular source of income," says Sr. JoAnn Persch, executive director of the Interfaith Committee for Detained Immigrants, "so this benefit will greatly assist with funding for the overally operation."