As members of the Conference of Major Superiors of Men, the Viatorian Community endorsed a recent op-ed published by The Huffington Post that was written by Fr. John Edmunds, ST, president of CMSM.


Titled, "Unjust Immigration Laws Call for Humane, Family First Approach," Fr. Edmunds told of specific families ripped apart by parents being deported and of their children wondering how the country they grew up in could do this.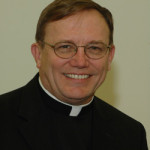 "As a Catholic priest and president of the national conference representing leaders of all the Catholic men's religious institutes across the country, I have come to know the reality of immigrants first hand," Fr. Edmunds opened his piece. "One-thousand and one-hundred deportations a day break up families and induce fear in communities."
His letter appeared days before Oct. 5, designated as a national day of action for immigration reform, when Catholics in particular will be fasting and demonstrating for comprehensive and humane change.
"Our nation's best values are dishonored by an immigration system that separates parents from their children," Fr. Edmunds wrote. "I urge all members of Congress, especially Catholics like Speaker John Boehner, to remember that immigration reform is fundamentally about real people and human dignity."
To read Fr. Edmunds' complete letter, click here.