A Letter from Inside the Detention Center at Guantanámo.
October 19, 2017
Khalid Qasim, has been at the prison at Guantanamo Bay for 15 years without charge or trial. He has been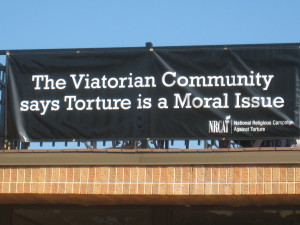 on a hunger strike to protest, but recently he has accused officials of a sudden change in practice that could result in him starving to death.
He described his treatment in an editorial that was published Oct. 13 in the U.S. edition of The Guardian.
Khalid comes from a small town in Yemen and traveled to Afghanistan in search of work in 2000. He was detained by Afghan police and handed over to the U.S. forces in a case of mistaken identity. It emerged later that the U.S. offered large financial incentives to local law enforcement to hand over Arab prisoners for interrogation.
Viatorians have actively worked to close the detention center at Guantanamo, and especially to free the 26 "forever prisoners," of which Qasim is one. One of their core missions is to eliminate torture in all its forms, in this country and around the world.