Henderson:
St Thomas More Catholic Community
130 N. Pecos Road
Henderson, NV 89074
Phone: 702-361-3022
Fax: 702-361-7784
Website: www.stmlv.org
St. Thomas More Catholic Community was established in 1986 in response to the rapid population growth in Southern Nevada. The Clerics of St. Viator were invited by the local bishop  to assume the direction of this new community which is the third Viatorian Parish in the Diocese of Las Vegas.
Viatorians serving at St. Thomas More: Fr. Michael Keliher, Fr. Alan Syslo, Associate Juliann Dwyer, Associate Lisa Fairweather,  Associate Ken Rosania, Associate Cheryl Schwarz and Deacon (Associate) Michael Underwood.
Las Vegas: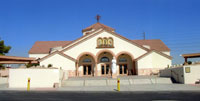 St. Viator Catholic Community
2461 E. Flamingo Road
Las Vegas, NV 89121
Phone: 702-733-8323/733-8324
Fax: 702-733-8154
Website: www.stviator.org
In 1954, the Viatorians were granted a parish of their own. St. Viator Parish, Las Vegas was first held in homes of parishioners, then a bank, and various other locations. In 1963, fifteen acres near Flamingo and Eastern streets were procured from the Bureau of Land Management in order for the church to be built. In 1977, a new church building was completed. Las Vegas continued to have a population explosion facilitating the need for a larger church to accommodate this growing population. On September 2, 1995 the first Mass was celebrated in the current building.
Viatorians currently serving at St. Viator Church: Fr. Richard Rinn, Fr. Larry Lentz, Br. Rob Robertson, Br. Michael Rice, Associate Anthony Gugino, Associates Paul and Rosy Hartz, and Associate Deborah Perez .
---
Cristo Rey St. Viator Las Vegas College Preparatory
High School
2880 N. Van Der Meer St.
North Las Vegas, NV 89030
Web site: https://www.cristoreystviator.org/

Opening in the fall of 2019, the Viatorian Community will sponsor the 35th Catholic school in the Cristo Rey Network, that serves more than 10,000 students across the country. Fr. Thomas von Behren, CSV, will serve as president and already is working to build support for the school in the Las Vegas community. Viatorians also serving the school include: Br. Carlos Flórez, CSV, and Associate Dan Schwarz.
 Bishop Gorman High School
 5959 S Hualapai Way
 Las Vegas, NV 89148
 (702) 732-1945
Website: www.bishopgorman.org
Bishop Gorman High School opened its doors in 1954, as the result of a collaboration between the Diocese of Reno-Las Vegas, Romy and Kathleen Hammes, who donated the land, and the Clerics of St. Viator, who agreed to administrate and staff it. It was and continues to be the only Catholic high school in southern Nevada. Its mission has remained the same: to be a national leader in college preparatory education, in an environment distinguished by Catholic values. Over the last 60 years, many Viatorians have served at the school. Currently Br. Rob Robertson, Br. Daniel Tripamer and Viatorian Associates Kim Martinez and Bridget Michlik serve at the school.